The 7 Secrets to Gail Kelly's Success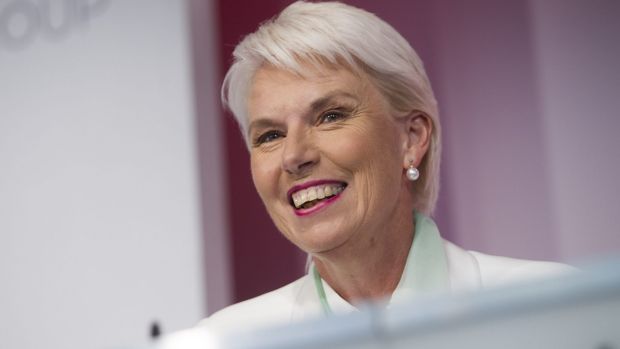 Gail Kelly, who will stand down from her groundbreaking role running Westpac next year, says her journey from teacher to bank teller to chief executive, "doesn't seem conceivable or possible or probable". 

Kelly revealed the seven life lessons that helped her smash the glass ceiling and learn to lead. 


1. CHOOSE TO BE POSITIVE
You can choose in your life how you respond to situations and you should actively choose to be positive, to see the world through a glass-half-full perspective. You should choose even in difficult times to look for the learning, the insights, the opportunities, the next steps.
2. DO WHAT YOU LOVE, LOVE WHAT YOU DO
If you love what you do, you'll do more of it; doing more of it, you'll gather more confidence, more energy and get better at it. That builds more confidence and energy and you love it more. And you grow in your capability and skills. And the reverse is true.
3. BE BOLD, DIG DEEP
Be courageous, and be prepared to take the opportunities and the challenges that come your way. Put your hand up! Be prepared to back yourself, be prepared to have a go.
4. RIGHT PEOPLE ON THE BUS, WRONG PEOPLE OFF
Are the right people in the right roles? This is the single most important factor for leadership success and for organisational success.
5. THE VISION THING
It is important to be able to communicate in a crystal clear way the vision and purpose of the organisation. The communication of this is key.
6. GENEROSITY OF SPIRIT
This is an essential ingredient for being successful in your life, as well as your business; practicing generosity of spirit in the way you go about your life and indeed your leadership role in work. If you believe in practicing generosity of spirit, at heart you believe in the power of an individual to make a difference and at heart you treat individuals with deep respect and want to see others flourish.
7. LIVE A WHOLE LIFE
Make sure that you live a whole life. We often come across people who are at the pinnacle of their career, they are immensely successful, they've climbed the mountain, they are the best they can be in their job or their profession and yet they are deeply unhappy.

Look at what they have lost along the way: a relationship, a partnership, they may not be connected to their children, maybe they've lost their health, maybe they've got no friends. They have no interests, they've lost sight of who they are, their spirituality, their inner person.
This article appeared in the Australian Financial Review, published Nov 14 2014; Author: Joanne Gray